Trucking in the United States is one of the largest contributors to the U.S. GDP, which contributes to making truck driving one of the most—if not the most—common employee types in the United States.
And like many industries today, trucking is suffering from a fundamental labor shortage. Driver churn is a real problem in trucking, with drivers changing fleets 10 to 15 times in their career, costing fleets upwards of $10,000 to $15,000 to recruit, qualify and onboard each new CDL driver.
Drivers cite a number of reasons for leaving a fleet including wanting to spend more time at home, issues with equipment and confusion over how much money they make per job and when they will be paid.
Truck Drivers Join the Gig Economy
On top of churn, there has been a general shortage of qualified drivers for many years—a situation that was made worse by the COVID-19 pandemic and the launching of the Drug & Alcohol Clearinghouse. In fact, Bob Costello, the American Trucking Associations' chief economist, says today trucking is short 80,000 drivers. If the problem is not addressed, ATA data predicts the driver shortage will reach 160,000 by 2030.
Both former Uber Freight alumni, Tim and Toan decided to take the best parts of the gig economy—flexibility and transparency—and apply it to the trucking industry.

The idea was to provide stability for the three million truck drivers who do not own their own rig and put drivers in control. The result of their efforts was Haul, a digital platform that connects trucking companies and their open assignments with pre-vetted, certified drivers to operate their trucks. The Haul Platform manages the credentials of drivers and provides the drivers with a profile that allows them to move between fleets.
Once a driver is vetted, Haul Certified™ drivers can use the Haul Driver app to choose their own work assignments from jobs listed by Haul fleet partners.
Payment Transparency
After a driver and fleet are matched on an assignment, drivers use the app to check in and out of each job. The Haul app will track earnings and allow drivers to see in real-time their earnings data.
Many truckers have an immediate need to access the money they earned while driving each day. Just like in other areas of the gig economy, where payment occurs immediately following service, InstantPay has been added to the Haul app to provide the same experience. Drivers can access their money as soon as they have completed a shift instead of waiting until the end of each week.
With InstantPay, a driver logs into the Haul app and can see the number of hours they can expect to work alongside the pay they will be receiving for those hours. Once the hours are approved, payment is transferred near instantaneously into the driver's bank account.

Partnering with best-in-class real-time payments provider, Dwolla, Haul drivers receive their money when they want it—not when the banks open.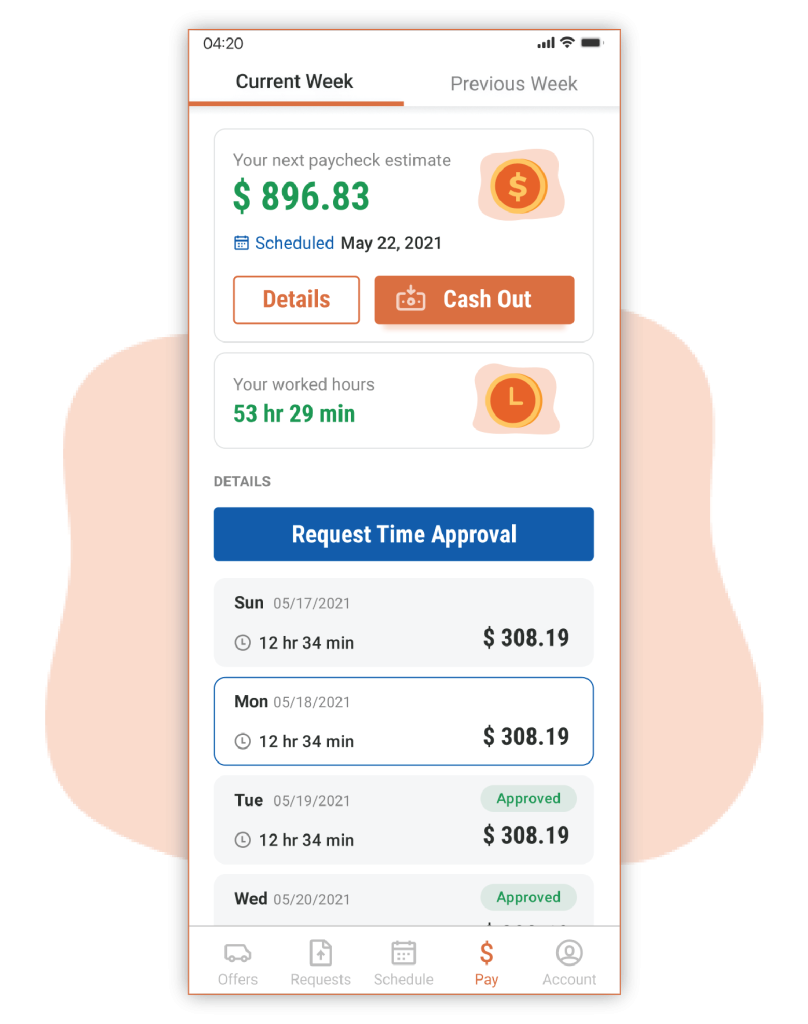 Haul is becoming the gig economy's payment solution. It's obvious to us that the employment model in trucking is broken. With features like InstantPay, we're rethinking how the new generation of truck drivers want to drive, work and get paid.